Complete Guitar Pick and Guitar Pick Tin Pricing

Single Color Guitar Pick Pricing
*Quantity Pricing only applies when using the same artwork, ink color and pick shape. You may change your pick color and/or gauge by the bag. * THERE ARE NO ARTWORK OR SETUP FEES AND ALL OF OUR PICKS ARE PRICED THE SAME.
Please call or email for pricing on quantities not shown.
Our minimum order is 100 guitar picks (1 bag)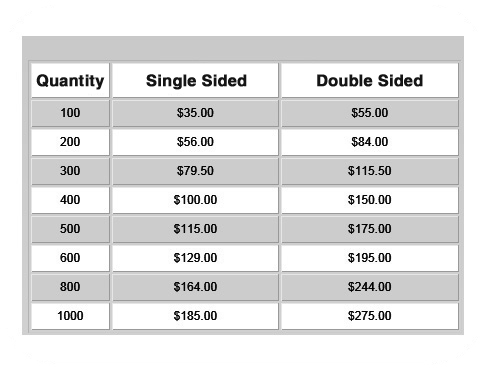 Full Color Guitar Pick Pricing
*Quantity Pricing only applies when using the same artwork and pick shape. You may change your pick color and/or gauge by the bag. * THERE ARE NO ARTWORK OR SETUP FEES AND ALL OF OUR PICKS ARE PRICED THE SAME. Please call or email for pricing on quantities not shown. Our minimum order is 100 guitar picks (1 bag)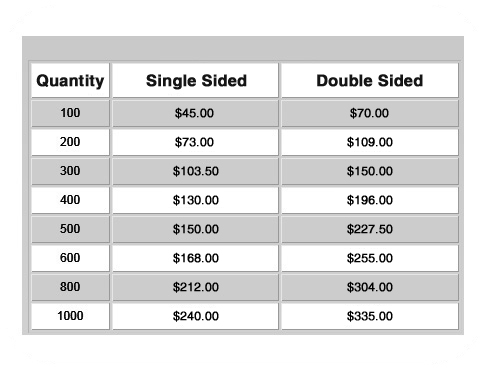 Empty Custom Guitar Pick Tins
*Quantity Pricing only applies when using the same artwork on all tins. Our empty custom guitar pick tins are sold by the case and each case contains 50 tins. The pricing includes both Top and Bottom printing if desired. * THERE ARE NO ARTWORK OR SETUP FEES for custom guitar pick tins.
Please call or email with any questions.
Our minimum order is 1 case. Each case contains 50 empty tins. BUY NOW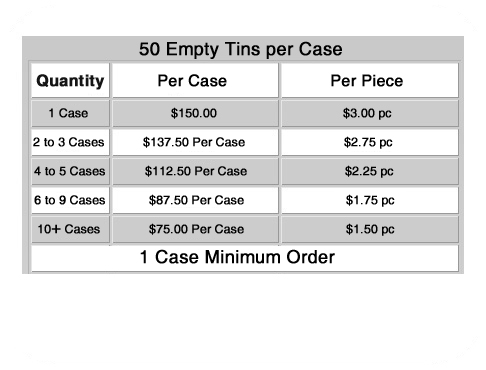 Packaged Custom Guitar Pick Tins
*Quantity Pricing only applies when using the same artwork on all tins. Our packaged custom guitar pick tins are sold by the case and each case contains 100 tins. The pricing includes both Top and Bottom printing if desired, up to 6 custom guitar picks and shrink wrap. * THERE ARE NO ARTWORK OR SETUP FEES for custom guitar pick tins or the picks contained inside.
Please call or email with any questions.
Our minimum order is 1 case. Each case contains 100 custom guitar picks tins. BUY NOW

Shipping Cost
*USPS 1st Class is for Domestic shipments only. It is not insured, has limited tracking and is generally a slower form of delivery. It is available for up to 2 bags only.
**We are not responsible for any customs and duty taxes that may be imposed by any country. These fees are the responsibility of the customer.
***For additional bag amounts not listed above, shipping cost will be calculated upon check out. You may also contact us for a quote.
*FedEx FIMS packages will be shipped via FedEx International Mail Service. Please note: This service can have an approximate 3 to 5 week transit time once shipped and is not trackable or insured. Once the package enters your country, it will be transferred to your local post office. This option will show up at checkout for up to 3 bags with pricing options. Please understand this can be a very slow method of shipping.
Hole Drilling
$5.00 per bag
Turn your guitar picks into jewelry or key chains
1/32: Thin earring post, 1/16: Necklace eyelet, 3/32: Ball chain (snug), 1/8: Ball chain (loose). You will have the opportunity to select hole drilling during the ordering process if interested.


About our Pricing
The above pricing is a complete price. The more bags you purchase with the same artwork, ink color and pick shape, the cheaper each bag will be. The only additional cost is the optional hole drilling and shipping, which are both shown above. We recommend selecting FedEx due to the custom nature of our products. We have found that with FedEx, your package will arrive safely, in a timely manor and will also be insured. Our USPS 1st class domestic shipping is affordable, however it is not trackable, it is not insured and is generally a slower form of delivery.