Below you will find all of the information you will need to place an order including artwork specs, templates, clip art and FAQs.
Please contact us if you need further assistance. A BUY NOW button is located at the top and bottom of each page.
Artwork Specifications
We require a black on white, 300 dpi image with no gray. If you are interested in a grayscale image, please send us the image first for review. We prefer a .psd or .jpeg file, but will also accept  .tiff files. We will not accept a word documents. It is best that you use one of our templates below. If you need to upload your art without a template, it should be 3 inches in size. Please keep in mind the small size of a guitar pick. We recommend keeping all text as large as possible to ensure it remains legible. If we have any concerns about your artwork, we will contact you prior to production. See the FAQ's below for more details.
Ink Colors Available
Ink colors available, Black,White,Red, Blue, Pink, Gold and Silver.  For Ink Color Recomendations (Click Here)
Printing Notes
Images will not be printed over the edge of the pick. We allow slight spacing between the image and the edge of the pick. Please note, that although our printing is very durable, any printing that makes contact with the strings will begin to wear.
Text Only
If choosing text only, our template is not required. You may choose a font from our large font link below and simply use the text only field on the website to telll us what font to use and how you would like it laid out. You will receive a proof prior to production. There is a list of clipart at the bottom of the page that can be added as well. We use the same detailed and durable printing process for text that we use for images. We have a large variety of fonts, but If you do not see what you are looking for, you can create an image using your font or contact us to see if we have it available.  FONT LIST (Click Here)
TEMPLATES
To use our templates, click the download link for the template you need. Once the image loads, right click the image and select "SAVE PICTURE AS" and name the file. This will save our high resolution template onto your computer. Once saved, you can open it in the image software of your choice and add your image. Please do not alter the template in any way.
InTuneGP GrippX-X™/Celluloid/All Standard Template (Download)
InTuneGP GrippX-Xjj™ Jumbo Jazz™ Template (Download)
InTuneGP GrippX-Xj™ Jazz Template (Download)
InTuneGP GrippX-XXX™ Tri-Tip Template (Download)
Celluloid Tri-Tip Template (Download)
Clipart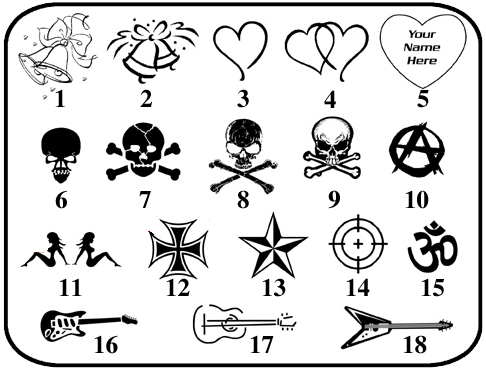 You will be prompted at checkout if interested in using clipart.
HOLE DRILLING
$5.00 per bag
Turn your guitar picks into jewelry or key chains.
1/32: Thin earring post, 1/16: Necklace eyelet, 3/32: Ball chain (snug), 1/8: Ball chain (loose).
You will have the opportunity to select hole drilling during the ordering process if interested.

FAQ'S
How do I place my order?
We prefer that all orders are placed on our website to ensure accuracy. You may click any buy now to go to our shopping area. In our shopping area, you will be able to select your product and upload your artwork as well as make your secure payment. If you have difficulties with our online shopping area, you may call and speak with our customer service department and they will be glad to assist you or take your order via phone.
What is your turnaround time and why?
We ship approximately 3 to 4 weeks from the date of confirming your order. This is because our process is very involved and we stay extremely busy. We take as much time as required to ensure each customer is very happy with the outcome of their order.
Do you accept Rush orders?
We do accept rush orders when our schedule allows. We ask that you contact us prior to placing your order if you require your picks prior to our 3 to 4 week turnaround time.
Do you charge a Screen Charge?
We do not charge any screen charges or setup fees.
How will you ship my order?
We prefer to ship all of our orders via FedEx. We have opted to use FedEx because they are dependable and your package can be easily tracked door to door. If there are shipping problems, FedEx makes it very easy to resolve them. We do offer a 1st Class domestic shipping option for orders of 1 and 2 bags. This is for US customers only and is $3.50. OVERSEAS CUSTOMERS: We can not quote you on duties and taxes set by your country and we are in no way responsible for the charge or payment of those duties and taxes.
What types of payment do you accept?
We accept all major credit cards as well as PayPal. We will accept a checks, however it may delay your order up to 7 days due to the time it takes to receive the check and the time it takes for it to clear.
Can I cancel my order?
Orders may be cancelled during the first 24 hrs after placing your order. A $25.00 cancellation fee will be charged after the first 24 hrs. However, please note, after 72 hrs, your order may not be cancelled.
How do I use your templates?
To use our template, you must right click the template of your choice and choose save as. You can then open the template in your image program of choice. The template should not be altered in any way. When designing your template, please remember the small size of the pick. This will help stop you from including very small text or large amount of text in a straight line. For example: "www.myspace.com/intuneguitarpicks" would be to long to run in one line and would make your web address illegible. Your art work CAN NOT touch the black edge of the template. WE PREFER PSD OR JPEG FILES. We will accept tiff files as well. We do not accept word documents.
What ink colors do you offer?
We offer black, white, red, blue, pink, gold and silver inks in our single color printing. Some inks are more visible than others on different colored picks. Please see our ink color recommendations on our samples page and if you have concerns, just contact us for recommendations. Our gold and silver are inks with metallic flake in them.
Does your ink wear off?
Our single color printing process is very durable and in most cases, the ink will outlast the pick.
What other options do you offer on your picks?
We offer hole drilling in 4 different sizes: 1/32″, 3/32″, 1/16″ and 1/8″ and the cost is $5.00 per bag.
Do you offer clipart?
We do have a small amount of clipart available. We encourage completely custom designs to get the most out of your custom order.
Can I get my favorite band's logo on a pick?
We do not print copyrighted artwork for unauthorized customers.
Do you sell blank picks?
We do not sell any of our picks blank. We do offer 12 packs with our logo printed on them.
What is your minimum order?
Our minimum order is one bag of 100 guitar picks. They must all be the same pick, artwork and ink color per bag.
Can I mix colors and gauges in a bag?
No. Due to our production process, you may only make changes by the bag. If you order 2 bags with the same art and ink color, you may change the pick gauge and or color and you will receive a mutli-bag discount.
Where do you get your picks from?
We manufacture our InTune™ brand of guitar picks and do all of the custom printing in house. This is something you should always ask when searching for custom guitar picks.
What are your guitar picks made of?
The two primary materials that we use are delrin®(a trademark of Dupont) for our InTuneGP GrippX™ line of guitar picks and celluloid.